About
I'm Fae, but you can call me Mistress. As a professional dominatrix based in NYC, I harness my natural dominance to bring my submissives to their knees.
In the dungeon, I weave together irresistible scenes that tap into our shared impulses. While my personality is outspoken, empathetic, and passionate, during a scene my style leans towards predatory and sensual.
My favorite submissives are open-minded and responsive: nothing makes me more gleeful than watching your breathing intensify as I push you through a rollercoaster of emotions. You'll learn to recognize the primal glint in my dark eyes that surfaces when I'm enjoying myself.
Whether I'm inflicting exquisite pain, dishing out humiliation, training you to serve, or immersing us both in an elaborate roleplay, there's no mistaking who's in control. Your power belongs to me.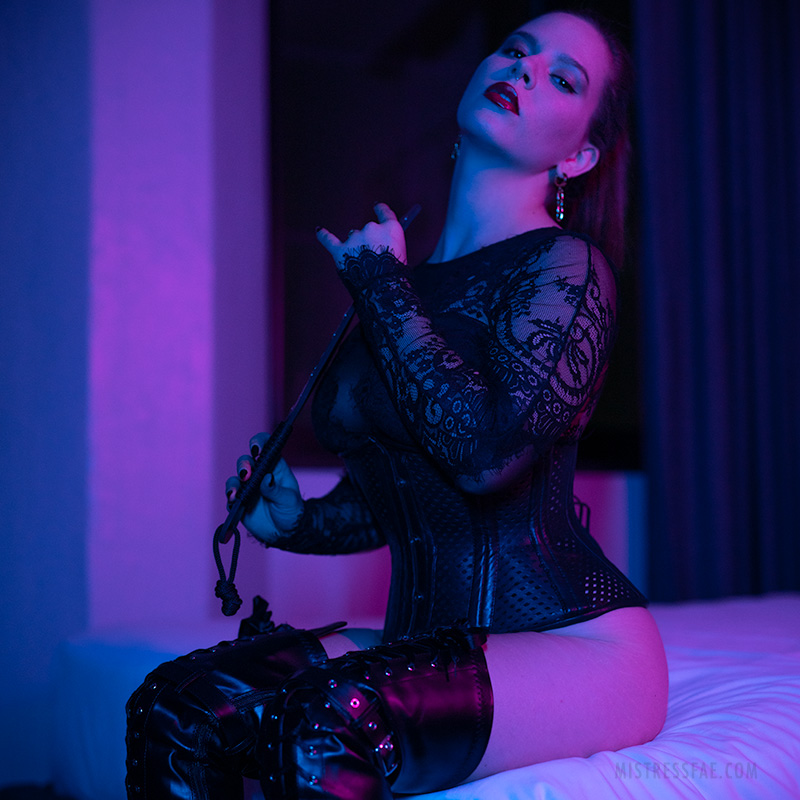 With that being said, I don't enjoy behaving arbitrarily mean or abusive. I never shout to prove a point. If you're primarily interested in topping from the bottom or don't consider yourself submissive, I'm not the right domme for you.
I do not offer nudity or sexual contact- these are hard limits for me. I also don't offer sessions involving scat, raceplay, switching, humiliating sissification, or anything illegal in New York State.
As a queer/polyamorous/kinky woman, I practice risk-aware consensual kink and firmly believe in listening with an open mind and without judgment. I actively welcome submissives of all genders, sexual orientations, racial backgrounds, and abilities.
Want to know more? See my FAQ page.
FAVORITE KINKS
I'm particularly inclined towards...
Classic domination:
Bondage, corporal punishment & impact, sensation play, pain & torture (CBT/BB)
Financial domination:
Especially paired with digital surveillance, shopping slavery, behavioral modification, or humiliation
Roleplay:
Puppy & pony play, goddess, AB/DL, babysitter, teacher/student, schoolgirl bullying, girl next door, boss/employee, hacker/victim, personal trainer
Training:
Domestic/maid, protocol training, feminization transformations, chastity, hypnosis
Humiliation:
Tease & denial, degradation, SPH, human furniture, discreet public humiliation
Worship:
Foot/shoe/stocking worship, yoga leggings, latex
STATS
Size 6.5 shoes
Petite/athletic
5'3" without heels
32DDD / Size S
French/Irish descent
3 tattoos
Favorite kinks: roleplay, boot worship, flogging, sensation play, findom, digital surveillance, pet play
Fetishes: Heels